| | | |
| --- | --- | --- |
| | First Brigade ~ Virginia Division ~ Department of the Army of Northern Virginia | |
On Oct. 2, 2018, it was decided by a motion that from this point forward, all of our future Camp meetings will be held
on t he 2nd Tuesday of each month at the Carrollton Ruritan club house. We will next meet on November 13, December 11, etc.
We will no longer have to find a special venue on voting days!

The Isle of Wight Avengers is a proud Camp in the Sons of Confederate Veterans.



We meet on the 1st Tuesday of
each month at 6:30 at the Carrollton Ruritan Club.
See our Calendar below.



"He who forgets his ancestors is unworthy
to be remembered by his descendants!"

Our purpose is to fulfill the
Charge to the Sons of Confederate Veterans:

"To you, Sons of Confederate Veterans, we submit the vindication of the Cause for which we fought;
to your strength will be given the defense of the Confederate soldier's good name, the guardianship
of his history, the emulation of his virtues, the perpetuation of those principles he loved
and which made him glorious and which you also cherish. Remember, it is your duty to see that
the true history of the South is presented to future generations."

Lt. General Stephen Dill Lee, Commander General
United Confederate Veterans
New Orleans, Louisiana 1906

Confederate Monument ~ IOW Courthouse
October 2 , 2018
Compatriot Lindsey Jones gave a most interesting slide show presentation about Cotton Clads and Rams which were ships protected in a unique way that most of us had never heard of.
As he talked about particular ships, he showed historical pictures of each of them.

Commander Tony Griffin presented Chaplain Tom Conley with his Virginia Division Life Membership Certificate.

Commander Griffin also presented Carl Cuthrell with his Avengers Camp membership Certificate. Carl is a past Division Adjutant.
Past Commander Keith Morris paid tribute to Past Commander in Chief Denne Sweeney (2004-2006) who passed away earlier this year. Denne's example of never refusing
a higher office urged all compatriots to work for their camps to the best of their abilities. He even appointed Keith as the Chairman of the National Recruiting and Retention Committee.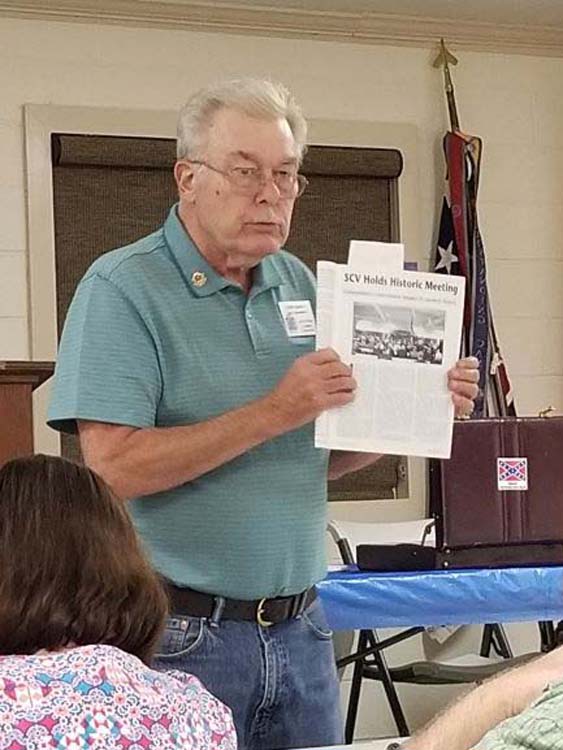 September 26, 2018
As you already know, the Avengers had to cancel the September meeting due to ongoing renovations at the Ruritan Club. The renovations are far from complete. Rather than cancelling yet another meeting, our October 2 meeting will be held at the Isle of Wight Ruritan building which is at 17011 Courthouse Hwy ( RT258) Isle of Wight, Virginia 23487. It is within sight of the Confederate Monument (above). Commander Griffin took pictures today of the interior of the Carrollton club house to illustrate the progress of the work being done.

June 6, 2018

Brooke Cousins is the Camp's 2018 scholarship recipient. During last night's Camp meeting, Brooke was attending graduation ceremonies at the
Governor's School for the Arts in Norfolk so special arrangements were made for the scholarship presentation today.
She is a recent graduate of Smithfield High School. Brooke also received a scholarship from
Goucher College in Baltimore where she will continue her studies in dance and ballet.

Brooke with her parents, Mike and Teresa

Keith Morris and Ed Whitley presented the check to Brooke.
June 5, 2018

2nd Lt. Cdr. Tommy Davis arrived at the club house well before our meeting. He brought 2 cherry cakes for our buffet as well as a 1st National Flag for our raffle.
Tommy has had a lot of medical problems over the past few months and simply did not feel up to staying for the meeting. We thank him for thinking of us even though he couldn't stay.


Keith Morris was our speaker for the evening. He spoke about the Virginia flag of 1861 and the flag currently in use today which was adopted by the General Assembly in 1950. He also spoke about the salute to the flag of Virginia (written by Cassye Gravely), and its possible meanings and origins. It was adopted by the United Daughters of the Confederacy at least by 1946, and adopted by the General Assembly in 1954.

May 1, 2018

William J. "Bill" Graham, III was our guest speaker this evening. Bill is the Virginia Division Treasurer. He dressed in the role of his ancestor, Dr. Van Lear, and spoke in the 1st person about him.
Commander Graham then presented a slide show about "Johnson's Island Prison Camp for Confederates" and received a well deserved round of applause.

The Avengers Camp currently has 3 active members serving on the Virginia Division Execution Council (DEC). With the Division Treasurer attending our meeting tonight,
there were 4 DEC members present--almost enough for a quorem!
From left to right are 1st Brigade Commander Tommy Thomas, Treasurer Bill Graham, past Division Commander Tony Griffin who will hold a seat
for the next 4 years, and Quartermaster Keith Morris.

Commander Tony Griffin presented Division Certificates to Camp members.

Tommy Thomas received a Guardianship Award.

Brett Griffin received an Honor Guard Award.

Keith Morris received a Distinguished Service Award.
April 3, 2018
Camp Commander Tony Griffin has also been serving as the Virginia Division Commander for the past 2 years.
A new Division Commander will be elected at the Convention in Roanoke April 20 - 21.
Tonight's meeting would be his last opportunity to wear the symbol of his office at his Camp's meeting.

1st Brigade Commander, Hal Hartley, was our guest speaker. He talked about Camp activities throughout the Brigade.
March 6, 2018
Mrs. Katheryne Hamilton spoke to the Camp about the "Maroons of the Dismal Swamp" where people lived from the 1600s until after the War. .
February 6, 2018
Commander Tony Griffin used our meeting time to conduct a business meeting. He discussed all current issues, and answered all quesions, concerns, and suggestions from the Camp membership
There was no Camp meeting on January 2, 2018 because of the extreme cold and no heat in the club house.
Pictures from earlier in 2017can be found at http://www.iowavengers.com/2017
or go to PICTURES in the gray Navigation Bar (at the top of this page) and choose any year you wish to review.
This post card is by courtesy of Commander John A. Sharrett, III of the Stonewall Camp #380.
The post mark on the back is dated June 21, 1907.
Current Virginia Division Officers http://scvva.org/





New Virginia Division officers for the 2016 - 2018 term
BRIGADE COMMANDERS
Commander - John T. "Johnny" Neville

1st Brigade - Tommy Thomas
1st Lt. Cmdr. - Fred Chiesa
2nd Brigade - Andrew Bennett Morehead
2nd Lt. Cmdr. - Donald J. "Jimmy" Easter
3rd Brigade - Carter T. Gill
Inspector - Bob Shirley, Jr.
4th Brigade - Richard A. Moomaw
Adjutant - Willian T. "Ted" Crockett
5th Brigade -
Treasurer - William J. "Bill" Graham, III
6th Brigade - W.A. (Bill) Dennison, Jr.
Quartermaster - Keith Morris
7th Brigade - W.B. (Bill) Crews
Chaplain - Pastor John Collins
Archivist - Travis Toombs
Heritage Defense Coordinator - B. Frank Earnest
Past Division Commander - L. Tracy Clary
Past Division Commande - Anthony M. Griffin (Tony)
Avengers Camp Calendar of Future Events
Our monthly meetings are usually on the 2nd Tuesday of each month, but meeting dates may change due to holidays or extreme weather conditions at the discretion of the Commander.. We also do not meet in July or August because so many of our members like to take summer vacations.

Our next meeting is scheduled for Tuesday, November 13, 2018
at the Carrollton Ruritan club house.
The Virginia Division web site is now at https://www.scvvirginia.org/
For a more complete listing of events in Isle of Wight County, see:
http://www.smithfield-virginia.com:80/events.html

SALUTE TO THE FLAG OF VIRGINIA:


I salute the Flag of Virginia with reverence
and patriotic devotion to the "Mother of
States and Statesmen" which it represents -
the "Old Dominion" where Liberty and
Independence were born.
-- Written by Mrs. Cassye Gravely, UDC

SALUTE TO THE CONFEDERATE FLAG:




I salute the Confederate flag with affection,
reverence and undying devotion to the
cause for which it stands. Amen.
COMMANDERS of the ISLE OF WIGHT AVENGERS CAMP #14:

SERVED FROM:

UNTIL:

Anthony M. Griffin
December 3, 2008
present
M. Keith Morris, Jr.
September 27, 2006
December 2, 2008
Site created on Sept. 1, 2006